Tim Hovik, National Dealer Council Chairman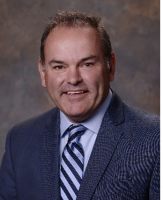 FREE Luncheon: Thursday, 27 April 2023
10:30 AM: Begin registration at Dearborn Country Club.
11:30 AM: Lunch – $30, Beef,
                                      Salmon,
                                      Special
                        All major credit cards accepted.
12:15 PM: Begin meeting (Zoom session will start earlier and will go live at 12:15)
 12:30 PM: Speaker – Tim Hovik, Chairman of the Ford Dealer Council
Introductory remarks will be followed by a question & answer discussion. Only in-person members will participate in the interactive Q & A. Zoom participants can submit questions in advance by email to This email address is being protected from spambots. You need JavaScript enabled to view it.. They will be consolidated and integrated into the Q & A by the moderator. The deadline for questions is 20 April. Zoom participants may also submit questions the day of the meeting via Chat until 12:45.
Please register by Sunday, 23 April, as meal counts must be provided for the kitchen. To register, log in, if you have not already done so. Click on 27.04.2023 and navigate to the bottom of the page.  Check the box appropriate for you (Meat, Fish, Special diet, or Zoom only), then check the "I will go to this event" box and click the "Register" button.  A confirmation message will appear at the top of the page when it refreshes.
If you have any problems trying to register, phone or text 248-767-6658 or email This email address is being protected from spambots. You need JavaScript enabled to view it.; please don't wait until the last minute. If you don't register, we may not be able to serve you.
TIM HOVIK, SAN TAN FORD
Ford Dealer Council Chairman
Tim Hovik, a native of Washington state, attended Arizona State University (ASU) before embarking on his successful career. Initially, he planned to work for Tex Earnhardt for a year as a car salesman during a gap year; however, Hovik decided to stay with Earnhardt for thirteen years and eventually became the general manager.
In 2007, Hovik was offered a partnership at a Las Vegas Ford franchise but chose to return to Arizona and join the newly opened San Tan Ford instead. Under Hovik's leadership, San Tan Ford and its parent company, The Richardson Group, have expanded to include five Ford franchises in California, New Mexico, and Texas. Hovik's success in the industry led to his appointment as Chairman of the Ford Dealer Council, where he represents all Ford dealerships in the United States, working closely with Ford Motor Company, Model e, Ford Credit, and Ford Pro to improve customer satisfaction in sales and service.
Since its establishment in 2009, San Tan Ford has achieved an impressive record of success under Hovik's leadership. The dealership ranks #27 in New Sales Volume Nationally with 2022 Sales of 2,446 and #2 in the nation for Retail and Internal Parts Sales. In 2022, San Tan Ford received recognition as the President's Award and Triple Crown Winner. Recently, the dealership opened a Stand-Alone Bronco Facility, and Hovik aims to strengthen relationships between Detroit and West Coast dealerships to attain greater success.
Beyond his professional success, Hovik actively supports philanthropic and community activities, including his commitment to ASU and Sun Devil Athletics, where his contributions have exceeded seven figures. In 2017, he received the Alumni Appreciation Award during ASU's Homecoming in recognition of his support.
Despite his achievements, Hovik remains committed to his employees and the community, striving to create a supportive work environment that promotes work-life balance while fostering career success.
# # #
Event Information
| | |
| --- | --- |
| Event Date | 04-27-2023 11:30 am |
| Event End Date | 04-27-2023 2:00 pm |
| Capacity | Unlimited |
| Registered | 82 |
| Cut Off Date | 04-25-2023 11:00 pm |
| Individual Price | Thirty |
| Location | Dearborn Country Club |
Venue Information - Dearborn Country Club
Primary venue for FREE Club lunches.