Edsel Ford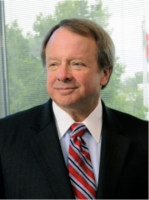 FREE Luncheon: Wednesday, 15 November 2023
10:30 AM: Begin registration at Dearborn Country Club.
11:30 AM: Lunch – $30.00, TBD
 12:30 PM: Speaker – Edsel B. Ford II will present an adaptation of a book written by Bob Kreipke about the life and times of Clara and Henry Ford. It speaks about many of the things they were involved with during their lifetimes.
The Zoom session will start earlier and will go live at 12:30.
Introductory remarks will be followed by a question & answer discussion. Only in-person members will participate in the interactive Q & A. Zoom participants must submit questions in advance by email to This email address is being protected from spambots. You need JavaScript enabled to view it.. They will be consolidated and integrated into the Q & A by the moderator. The deadline for questions is 13 November.
Please register by Friday, 10 November, as meal counts must be provided for the kitchen. To register, login, click on the event and navigate to the bottom of the page. Click on Register, go to Menu Choice and check the appropriate box (Meat, Fish, Special Request, or Zoom only).
If you are bringing a guest, enter their name and menu selection in the "Comments" section.
Check the "I will attend this event" box and click the "Process Registration" button.  A confirmation message will appear at the top of the page when it refreshes.
If you have any problems trying to register, phone or text 248-767-6658 or email This email address is being protected from spambots. You need JavaScript enabled to view it.; please don't wait until the last minute. If you don't register, we may not be able to serve you.
The Zoom invitation will be emailed to those who register for Zoom only. It will also be available at the Ford Retiree Club under "Latest News" for those who are late in registering.
____________________________________________
BIOGRAPHY: EDSEL B. FORD II
Edsel B. Ford II is a retired member of the Board of Directors of Ford Motor Company. He was elected to the Board in 1988. As a consultant to Ford, Mr. Ford is active in dealer relations, customer advocacy, motor sports, and corporate history.
Mr. Ford began his career at Ford Motor Company in January 1974. He was named President and Chief Operating Officer of Ford Motor Credit Company in May 1991 and elected a company vice president on December 9, 1993.
Mr. Ford is the owner and Chairman of Pentastar Aviation, an aviation services provider headquartered at the Oakland County International Airport in suburban Detroit. He is also the President and CEO of Lakeshore Capital, LLC. Mr. Ford was the former chairman of the Detroit Branch of the Chicago Federal Reserve Bank and also a former Board Director of the International Speedway Corporation.
Mr. Ford is very active in several charitable organizations including JDRF, The Henry Ford, The Detroit Zoo Advisory Council and Race Against Dementia. He is currently Board Chair of Fair Lane (Home of Clara & Henry Ford). He was the former chairman of the National Advisory Board of the Salvation Army, former Trustee of The Skillman Foundation and The Automotive Hall of Fame, as well as a former Board Member Emeritus of The Smithsonian National Air and Space Museum.
In October 2023, Mr. Ford was inducted into the North Carolina Auto Racing Hall of Fame "Walk of Fame". In 2020, he was honored with the NASCAR Hall of Fame Landmark Award. In 2017, Edsel Ford received the Carroll Shelby Spirit Award, and in 2013 he was presented with the Keith Crain/Automotive News Lifetime Achievement Award.
Mr. Ford was born on December 27, 1948, in Detroit. He received a bachelor's degree in business administration from Babson College in 1973 and completed the Program for Management Development at the Harvard Business School in 1981.
Mr. Ford is the great-grandson of Henry Ford, founder of Ford Motor Company. His grandfather is Edsel B. Ford, company president from 1919 to 1943. His late father, Henry Ford II, was president of the company from 1945 to 1960 and chairman from 1960 to 1980.
Mr. Ford is married to the former Cynthia Layne Neskow, and they have four sons and nine grandchildren. The family lives in Grosse Pointe Farms, Michigan.
###
Event Information
| | |
| --- | --- |
| Event Date | 11-15-2023 10:30 am |
| Event End Date | 11-15-2023 2:00 pm |
| Capacity | 200 |
| Registered | 81 |
| Available Place | 119 |
| Cut Off Date | 11-13-2023 10:00 pm |
| Individual Price | Thirty dollars each |
| Location | Dearborn Country Club |
Venue Information - Dearborn Country Club
Primary venue for FREE Club lunches.